5 Steps to Choosing a Spill Kit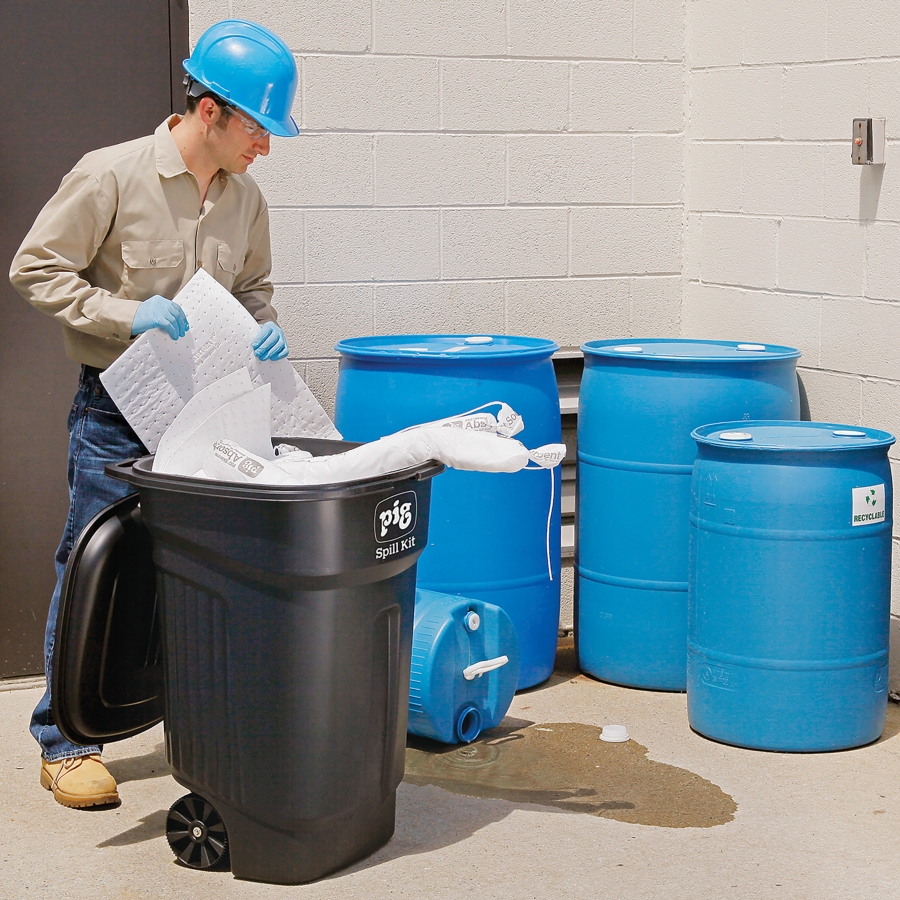 Choosing a spill kit may seem like a daunting task. With so many choices available, how do you know which spill kit will be the best one for your needs? Determining the best fit really isn't as difficult as it may seem. By answering the following questions, you should be able to narrow down the selection to a few kits that will be suitable for your situation.
1. What liquids will you be absorbing?
Choosing a spill kit with absorbents designed to absorb both water and oil-based liquids when responding to an oil spill on water can be a costly mistake. Likewise, having a spill kit available with limited compatibility when responding to a highly corrosive liquid may result in an undesirable chemical reaction. By knowing what liquids are used in your facility, you can select the correct kit to respond to spills you could encounter.
Our spill kits are available in three varieties:
Universal:

for spills of oils, coolants, and other water-based, non-corrosive liquids.

Oil:

for spills of oil-based liquids only. Used for clean up of oil on water, or for response to oil-based spills in the rain or snow.

Chemical:

for spills of corrosive liquids, or for spill teams responding to a spill of unknown origin.
2. What is the volume of your worst-case scenario spill?
Determine the largest amount of liquid that could be spilled from a single container or holding tank. If your liquids are stored in drums, this would likely be the contents of an entire drum, normally either 30 or 55 gallons. If you store liquid in totes, consider the volume of your largest tote – usually anywhere from 200 to 500 gallons.
Remember, that it may not always be practical to absorb the entire contents of a spill, especially if it is a large one. Spill kits can be used in conjunction with non-absorbent dikes and drain covers, which help channel or contain liquids, so that they can be recovered with vacuums or pumps. After a bulk of the liquid has been removed, absorbents can then be used to remove the remainder of the spill.
3. What type of container works best for your location?
Some companies choose to locate spill kits in every area prone to spills, such as loading docks, drum storage areas, dispensing stations and waste fluid collection stations. Others choose to have one or two kits that can be transported to the area where a liquid is spilled.
Small spill kits have handles that make them easy to carry to the site of a spill. Dollies and wheeled containers are available to make larger kits portable. Some kits can even be transported with a forklift. When choosing these options, it is important to know the physical limitations of your spill response team, as well as the terrain they must cover to get to a spill. A spill kit on casters, weighing 80 pounds will be great for a spill inside a warehouse, but may not be the best option for people to carry a long distance over rough soil.
On the other hand, if locating spill kits in each spill prone area, you may want to consider wall-mounted kits for smaller spills or a spill response center for larger spills.
When selecting kits for tight areas, like the cab of a truck, a stowaway or bagged kit is probably the best choice.
4. Do you need any Personal Protective Equipment (PPE)?
The variety of liquids that have the potential to create a spill is vast. Spill responders also come in all shapes and sizes. Because of these two factors, there is no PPE in our kits. A spill kit that contains the wrong gloves or the wrong size suit isn't going to do you a lot of good in an already stressful situation. There is room in the kits for PPE to be added. This helps ensure that workers will be properly protected and the right equipment will be readily available.
5. Do you already have a cabinet or container for your kit?
There is no regulation that tells you what a spill kit must include, or what the container must look like. If you already have a storage cabinet in an area where you'd like to put a spill kit, or if you have old spill kit containers that just need to be restocked, nearly all of our spill kits have refills available. Simply choose a refill based on your absorbency needs and stock it in the container or cabinet already at your facility. If you went through each of those questions, you should have a good idea of what type of spill kit you need.
Now that you know how to choose the right spill kit, get a PIG Spill Kit to prepare for your messy situations.