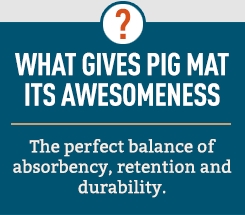 SOAKS UP FAST
Exclusive dimple pattern speeds wicking of liquid throughout the mat for quick leak and spill cleanup.

HOLDS ITS LIQUID
Highly absorbent fine fibers trap liquids so the mess doesn't pour back out when you pick it up.

LASTS 2X LONGER
Eight layers of thermally bonded polypropylene give PIG Mat superior strength and abrasion

FAQ
Q: Which PIG Mat is best for my application?
A: We make dozens of different mats to perform in a wide variety of jobs. It all depends on your liquid type, amount, location and level of nearby traffic. Need help choosing? Call
1-855-493-HOGS!