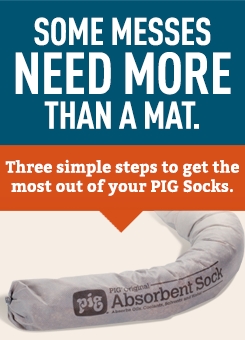 Clean up all loose absorbents, rags and other debris around the source of the leak. Hold each sock by its ends and shake to evenly distribute filler. This will create better surface contact.

Make sure your PIG Socks have direct contact with the floor and the liquid being absorbed. Don't stack socks on top of each other. When placing end-to-end, overlap them by 3".

If it ain't soaked, don't pitch it! Let the sock work until it's saturated. Replace the sock when you see liquid seeping out from underneath.