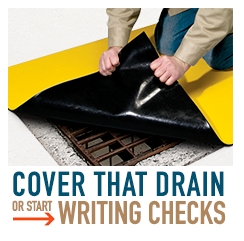 Your risk of polluting a stream, river or lake is as close as the nearest storm drain. Spills escape through the drain to the groundwater and waterways. Hello, hefty fines.
The easiest, most cost-effective solution is to cover and seal the drain with a drain cover. Consider three points when choosing.
---
Ease of Deployment
The best drain cover will be tight-sealing and easy to use, whether it's for emergencies or left down for extended periods.
---
Ruggedness and Reusability
Only PIG DrainBlocker Drain Covers with DuPont Elvaloy have a specially formulated, two-layer design that makes them UV- and chemical-resistant, long-lasting, tight-sealing and extra strong to prevent tearing. Use indoors or out, with foot or light cart traffic. They can be removed, cleaned and stored for reuse.
---
Traffic Applications
For traffic from light vehicles to tankers, the tight-sealing PIG Drive-Over DrainBlocker is ideal. It's puncture- , UV- and chemical-resistant. It can also be removed, cleaned and stored for reuse.
---
For more information, go to Cover that Drain.