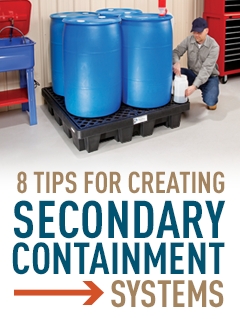 Secondary containment: Regs say you have to have it. Here are eight ways to achieve it!
---
1. Use Containment Pallets and Decks
Instant, portable containment for drums, totes and other containers
---
2. Build Cement Berms
Customized permanent structures ideal for tank containment outdoors
---
3. Install Flexible Barriers
Secondary containment berms that you can drive over with forklifts and carts
---
4. Create Slopes
Sloped secondary containment areas in parking lots or facilities channel and contain liquids so they can be collected or vacuumed
---
5. Construct Retention Ponds
Use as a BMP for Stormwater compliance or as secondary containment in or outside of a facility. Check reg requirements before building
---
6. Build Earthen Berms
Low-cost and quickly constructed, but easily contaminated by spills, requiring remediation or replacement
---
7. Use Double-Walled Tanks and Equipment
The second wall contains the spill if a leak occurs
---
8. Deploy Collapsible Containment
Portable, flexible containment pools that are quick to deploy, with fold-down walls that allow vehicle access
---
Find more information on creating secondary containment systems.