Customer FAQs: Leak Diverters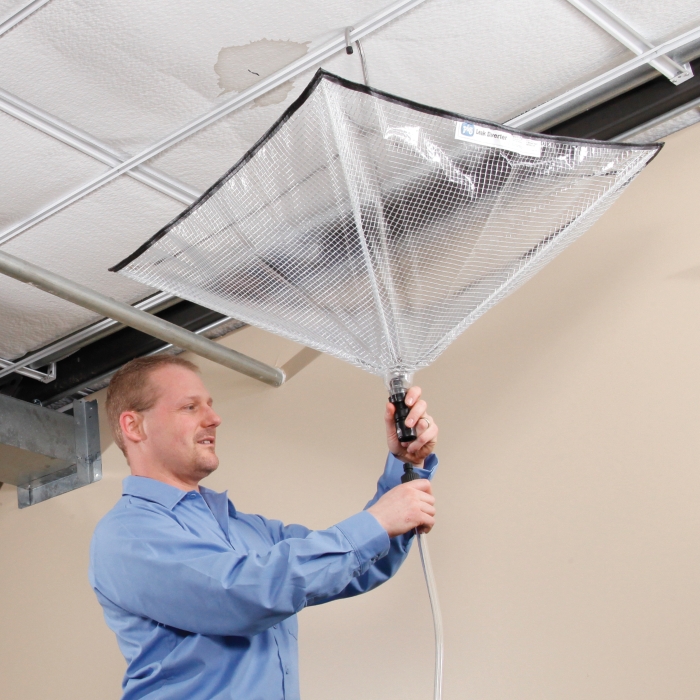 How does a leak diverter work?
Leaks can be catastrophic and result in ruined inventory and equipment or wet floors. A PIG Leak Diverter can keep everyone safe and productive until repairs can be made. A collection tarp attaches to your roof, ceiling or leaky pipe and catches liquid and funnels it to a hose connection. The hose channels that liquid to a floor drain, collection container or portable storage tank.
How do I choose the right leak diverter?
First, identify problem spots in your facility. Think of spaces where you are likely to have a roof or ceiling leak. Choose the right leak diverter tarp size and style that fits that leak area, then choose hanging straps, a hose and a collection container or portable storage tank. Or, choose from one of our Leak Diverter Kits that come with these accessories.
How do I install my leak diverter?
Watch this video to see how to install our PIG Standard and Umbrella-Style Leak Diverters. We recommend hanging your leak diverter before attaching the hose assembly.
Are replacement parts available for leak diverters? How do I go about getting replacement parts?
Yes, replacement parts are available! Rubber hanging straps in various or adjustable lengths, hose connectors and drainage hoses can be purchased for your leak diverter system. Contact customer service or visit the leak diverters page to buy replacement parts. If you are looking for a custom replacement, please contact customer service.
What are leak diverters made of?
Leak diverters are composed of a nonpermeable PVC and coated for strength and durability. They resist punctures, UV light and mildew. Leak diverters are not suitable for temperatures above 170°F/77°C. All leak diverters contain built-in grommets made of brass or steel that resist tearing and make installation a breeze.
Can leak diverters be used for other liquids besides water?
Leak diverters are recommended to be used with water only. Our Oil Pipe Leak Diverter Bucket Kit with Absorbents is the only diverter made for oil. We do not recommend the use of leak diverters with chemicals.
What if I need a size of leak diverter that is not available in your current offering?
Custom sized leak diverters are available. Please contact customer service for additional support.