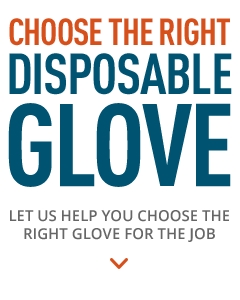 BEST SELLING
Nitrile Disposable Gloves
Of the glove materials, nitrile offers a superior chemical resistance and is recommended for use with the large majority of common chemicals. Nitrile is New Pigs best selling disposable glove type.
Nonallergenic
More chemical resistant than latex to protect against intermittent contact and splashes
Resists puncture and abrasion better than PVC/Vinyl
BEST FIT AND FEEL
Latex Disposable Gloves
With the best fit and feel, latex provides a durable barrier protection from common chemicals and irritants for the hands.
Excellent stretchability
Fits hands tightly to give them added sensitivity for delicate tasks
More economical than nitrile
MOST COST-EFFECTIVE
Vinyl Disposable Gloves
PVC/Vinyl is a nonallergenic, versatile material delivering comfort, sensitivity and performance.
Nonallergenic
Versatile material delivers comfort, sensitivity and performance
Tough enough to reuse, but inexpensive enough to be disposable
BEST OF BOTH WORLDS
Triple Polymer Disposable Gloves
Polymer Combinations: The best of both worlds. An exclusive blend of rubber neoprene, and nitrile.
Delivers the comfort of latex with the strength of nitrile & neoprene
Flexible for easy on and off
---
From light-duty latex to heavyweight nitrile, we have a disposable glove for every wear-and-toss application.
Assembly
Repair
Electronics
Quality Control
Chemicals
Polishing
Laboratories
Hospitals
Food Handling
Police/Security