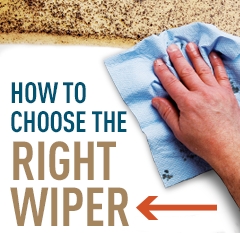 From rough scrubbing to fine dusting to final polishing - wipers are a pretty great way to tackle cleanups. A few things to keep in mind when choosing:
---
Lint:
Working on delicate electronics or printing presses? Don't want residue left behind? Low-lint wipers are best.
Absorbency:
For wiping your hands, or removing light dirt or soil, you don't need much absorbency. For wiping an oily part, or for a small spill cleanup, you'll want a lot more.
Wet & Dry Strength:
Coarse surfaces or rough edges? Wiping up solvents? Then you'll want a wiper with lots of strength and durability.
---
The Right Fit for Every Job
Our Performance Rating (PR) system rates wipers on a scale from 10 to 100, so you know exactly what you're getting.
PR 90–100: Ultra-Duty

- The strongest and most durable. One wiper lasts all day for polishing, staining or scrubbing rough surfaces.

PR 60–80: Heavy-Duty

- Made to handle rough wiping tasks. Thick and clothlike, with a textured surface.

PR 30–40: Medium-Duty

- Soft and absorbent for all-around tasks like wiping your hands or face, soaking up small spills or cleaning small parts and tools.

PR 10–20: Light-Duty

- Ideal for wipe-and-toss jobs like washing windows, drying surfaces or cleaning smoother surfaces.
---
Learn more about how to choose the right wiper.