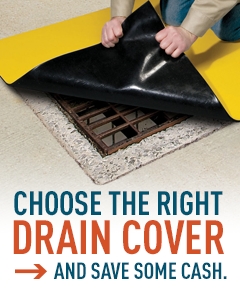 If your facility transfers, stores or uses oils or hazardous materials, environmental regs require you to cover your drains. But how do you choose what you need — and can afford? Just answer these questions:
---
1. Are you going to use the cover daily, leaving it in place for a long time?
Invest in the heavy-duty PIG DrainBlocker with Dupont Elvaloy engineered to be tear-, UV- and chemical-resistant.
---
2. Do you need to be able to drive in and out of the drain area?
The PIG Drive-Over DrainBlocker is ideal for extended use, even under heavy traffic from tankers, trucks and forklifts.
---
3. Will you use the drain cover only for spill response?
The PIG Rapid Response DrainBlocker is great in an emergency, and affordable enough for you to buy multiple covers for drains throughout your facility.
---
Find more information on choosing the right drain cover.