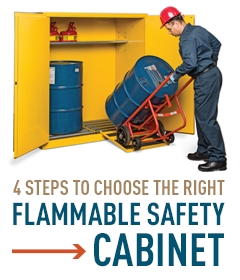 Flammable liquids can wreak some serious havoc - so there are a lot of regs to follow when it comes to storing them. The safest way is in an approved container inside a flammable safety cabinet. Here's how to choose the right one:
---
Step 1: Determine where the cabinet will be used.
Outdoor storage buildings work well for bulk storage of flammables, but a storage cabinet can help you keep smaller amounts right where you use them.
---
Step 2: Make sure it meets OSHA and NFPA 30 construction and design requirements.
Independent third-party certification like Factory Mutual Global (FM) or Underwriters Laboratory (UL) also ensures that the cabinet has passed rigorous testing.
---
Step 3: Determine the class or category your liquids fall into.
Check the SDS for the flash and boiling points of your liquids so you're only storing compatible liquids together. OSHA allows for the storage of 60 gallons of Class I & II (Category 1, 2, 3) or 120 gallons of Class III (Category 4) Liquids to be stored in a single cabinet.
---
Step 4: Check local requirements.
Find out if you're required to have a cabinet with self-closing doors or if manual doors will do. You'll also need to contact your local authority having jurisdiction (AHJ) about the placement of your cabinets and how many they'll allow in a specific location.
---
Learn more about choosing the right Flammable Safety Cabinet