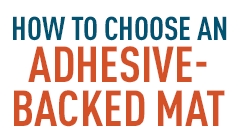 Here's how to choose the right Grippy Mat for your application.
---
Where: oily areas around machines and workstations.
What: capture overspray and drips and trap oil, grease and grime.
Absorbs: oils, coolants, solvents and water.
Durability: moderate foot and light-wheeled traffic up to 4 weeks.
---
Where: entrances, walkways and other high-traffic areas.
What: trap dust, dirt and salt and absorb water.
Absorbs: water, grease and oils.
Durability: heavy foot and cart traffic up to 12 weeks.
---
Where: hospital O.R.s and surgical centers.
What: capture body fluids and hospital liquids.
Absorbs: blood, saline, water and other hospital fluids.
Durability: withstands limited movement during procedures; single use.