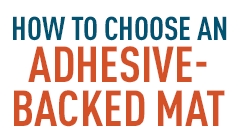 Here's how to choose the right Grippy Mat for your application.
---
Where: oily areas around machines and workstations.
What: capture overspray and drips and trap oil, grease and grime.
Absorbs: oils, coolants, solvents and water.
Durability: moderate foot and light-wheeled traffic up to 4 weeks.
---
Where: entrances, walkways and other high-traffic areas.
What: trap dust, dirt and salt and absorb water.
Absorbs: water, grease and oils.
Durability: heavy foot and cart traffic up to 12 weeks.
---
Where: in front of sinks, toilets and urinals, below hand dryers, towel and soap dispensers.
What: catch drips to protect against stains, grout damage and slippery floors.
Absorbs: water and urine.
Durability: daily restroom traffic up to 30 days (or longer depending on your conditions).