VIDEO
How to Install PIG Grippy Floor Mat in Your Grocery Store
Watch this video for step-by-step instructions on how to successfully launch your PIG Grippy Floor Mat program.
PIG Grippy Floor Mat is designed to keep your floor cleaner and safer than rental or other carpeted mats. Before you roll it out, let us show you how to properly install and maintain this unique adhesive-backed mat for the best performance in your grocery store.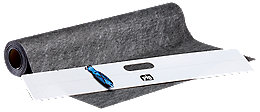 Save $43 on the Grippy Mat Starter Pack
Starter Pack includes: 36" x 25' Grippy Mat Roll, Safety Cutting Knife and Installation Tool.