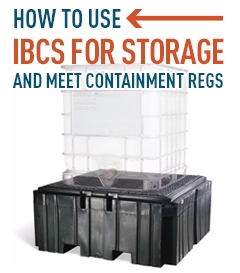 Give Your IBC a Lift!
You bought an intermediate bulk container (IBC) for hazardous waste storage. You know regs require you to have secondary containment for it. So can you just sit it in a large sump? Sorry, no. Those same regs say you have to elevate the primary container or otherwise protect it from leaking, accumulating liquid. It can't just sit in its own waste. Now what?
Poly IBC Spill Containment Pallets to the rescue!
They're durable, chemically resistant, and large-capacity. They lift the totes to a manageable height for dispensing, but keep them free from liquids leaking into the sump area. For secondary containment for flammable liquids, Steel Containment Units are the ticket. Our heavy-duty units can hold two totes, and with Modular IBC Pallets, you can create an expandable system for up to five totes.
---
Read more about how to use IBCs for storage.