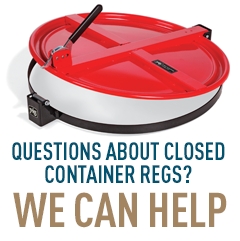 EPA closed container regulations [40 CFR 262.16(b)(2)(ii) and 40 CFR 262.17(a)(1)(iv)] require your hazardous waste containers to be "kept closed, except when necessary to add or remove hazardous wastes."
EPA's Guidance Document for Closed Containers defines "closed" and outlines liquid and solid hazardous waste storage in two major accumulation areas: central (CAAs) and satellite (SAAs) accumulation areas.
---
The Guidance Document in a nutshell.
In CAAs:

you can store your hazardous waste containers until they can be transported for recycling or disposal.

In SAAs:

you can temporarily store up to 55 gallons total of hazardous waste or one quart of acutely hazardous waste. There are no limits on how many types of waste can be collected as long as all containers are labeled and kept closed.
---
Latching lids and drum funnels help you comply in SAAs.
EPA suggests using latching lids to keep open-head containers of solid and semi-solid hazardous wastes closed and sealed.
EPA recommends locking drum funnels that screw tightly into a bung opening to seal closed-head containers of liquid hazardous waste and prevent inhalation, vapor buildup and spills.
---
Click here for more information on closed container regs