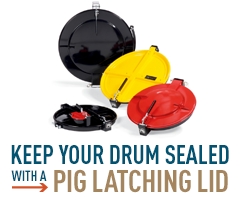 Do you store hazardous waste in a 55 gal. drum but need to use it throughout the day? Then you have two choices: use the original lid and bolt ring or install an easy-to-use latching lid.
---
Regulations and safety go hand-in-hand.
EPA 40 CFR 262.16(b)(2)(ii) and 40 CFR 262.17(a)(1)(iv) require containers to be "kept closed, except when necessary to add or remove hazardous wastes." And it makes sense to keep the drum sealed so your workers stay safe. But reinstalling the bolt ring is such a pain that employees will just set the lid on top of the drum without the ring and call it closed. If an inspector sees this, it's an instant fine for you.
---
Keep a lid on it.
A PIG Latching Drum Lid lets your employees access your drum with one hand and seals tight to stop spills and vapor emissions. When the inspector sees a latching lid on your drum, he knows you're serious about complying with closed container regs.
---
Learn more about keeping your drum sealed