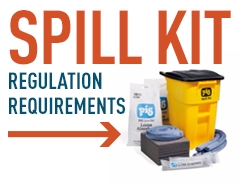 Inquiring Minds Want to Know: Are There Certain Regulations That Require You to Have a Spill Kit?
The short answer is no. But we're talking about regs, so you know it's not that easy! There are several regulations that say you have to be prepared to respond to spills: Spill Prevention Control and Countermeasures (SPCC), Stormwater Pollution Prevention Plan (SWPPP), and OSHA's Hazardous Waste and Emergency Response (HAZWOPER). And having a spill kit on hand and written into your best management practice plan could help you comply with all of them.
Of course, there's the usual small print to consider, and we understand how confusing it can be. Whether it's a reg question, or you're unsure about the type of spill kit you need, give our tech experts a call at 1-800-HOT-HOGS. They live for that kind of stuff!
---
Read more about these regs and how PIG Spill Kits can help you be in compliance.