Oil Water Separators

A reliable oil and water separator can save you time, hassle and money spent on fines for noncompliance. Count on our active and passive oil-water separators to catch contaminants before you pour them down the drain. Our Oily Water Separators use PIG Absorbents and good old gravity to filter out oil, so only clean water runs out. And Self-Bailers attach to spill pallets and other secondary containment units in remote areas that can't be constantly monitored – they'll stop overflow if they sense a hydrocarbon leak.
Accessories for Oil Water Separators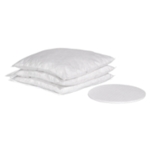 For Oil
Absorbs up to 5 gal.
For Outdoor Oily Water Filter Bucket
---
Oil and sediment have a bad habit of getting into places where they don't belong. For help keeping your water clean and avoiding EPA fines, a passive or active oil and water separator filter can ensure that only good, clean water is going back into the supply. Our PIG Oil-Only Absorbents catch oil on its way through our Bucket Filters, and our Self-Bailers keep an eye on overflow when you're not around.
Top