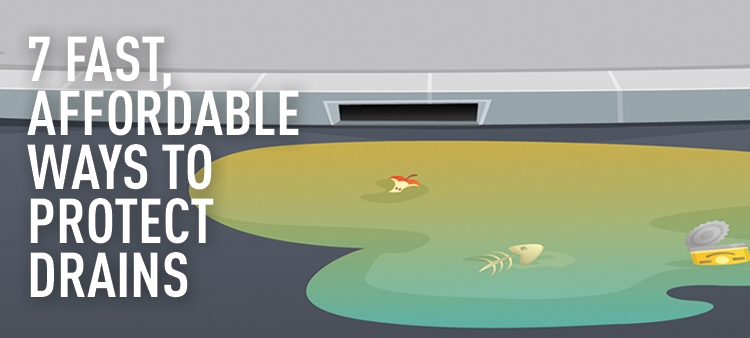 Editor's note: Welcome to our series on Stormwater Management! We hope you find these PIG-exclusive articles to be helpful in explaining the basics of stormwater regulations and what you can do to help protect your storm drains.
Oil, debris and other contaminants can do a lot of damage to storm drain systems in parking lots and outdoor storage areas. The Environmental Protection Agency (EPA) requires companies to implement pollution control plans to fight stormwater pollution at their facilities since it is illegal under the Clean Water Act (CWA) to discharge pollutants into navigable waters.
Fortunately, facilities managers and municipalities have options that can protect their locations against much of this damage and help save the company time and money. Even better, these simple options do not involve costly operations such as tearing up grounds to install drainage systems or retention ponds.
Preventing Stormwater Pollution with Passive Devices
Passive devices combined with regular maintenance programs will reduce the amount of contaminants that enter waterways from storm drains. While passive devices are not designed to stop or block drains in the event of a major spill and do not guarantee drinkable water, they can significantly reduce the amount of contaminants that enter waterways. Here are seven fast, affordable ways to prevent stormwater pollution:
1. Oily Water Filter Mats and Towels
Rainwater can carry leaks and drips of oil into storm drains, which can be a major violation of the CWA. So how do you remove oil from water? Oily water filter mats and towels absorb and retain oil and let clean water pass through, so any hydrocarbons can't make their way down a drain or into waterways. These UV-resistant pads, rolls, strips and towels are made to surround storm drains, catch oily outflow or remove sheens to keep pollutants out of your discharge.
2. Drain Inserts
Oil and debris such as dirt, twigs, leaves, bottle caps and broken glass can accumulate in water systems and cause problems for fish and other aquatic life. Debris can also cause drainage pipes to back up.
Drain inserts filter oil and capture debris just below the surface of the storm grate. Installing a drain insert minimizes the time workers spend digging debris out of the catch basin and reduces the likelihood they will directly handle sharp or hazardous objects.
3. Absorbent Booms
Facilities and municipalities can channel stormwater to retention ponds or other areas where it can evaporate or be treated and released. But oil that gets through stormwater drains and ends up in accumulation areas can negate treatment efforts.
Absorbent booms attract oil and oil-based liquids while repelling water. Booms float on water and can be purchased in two colors: white to show grime or black to hide it. A built-in rope the entire length of the boom adds strength and makes retrieval easier.
4. Trays and Decks
Capturing oil at the source of the leak will preserve concrete or asphalt surfaces and prolong the life of drain inserts. Trays and decks capture and contain pollutants inside a sump to prevent them from reaching the environment.
5. Collapsible Spill Berms
Facilities where liquid-holding containers are regularly moved have a greater chance for a spill. Collapsible containment berms contain spills that happen while containers are being moved. These berms are portable and have collapsible walls that forklifts and other vehicles can drive over.
6. Self Bailer Kits
Outdoor spill pallets and other containment units that come into contact with rainwater must be drained to prevent overflow and pollutant discharge. Self bailer kits attach to containment units and filter oil until they detect a large hydrocarbon leak or the filter is saturated. When the filter becomes saturated, however, no liquid can pass through.
7. Drain Markers
Municipalities have the issue of citizens dumping oil or sweeping debris into storm drains, which can harm aquatic life if the drain goes to a waterway and floods residential areas. Drain markers labeled "No Dumping" remind the public to think twice before disposing of waste there.
Green Strategies to Prevent Stormwater Pollution
Another way to prevent stormwater pollution is by employing environmentally-friendly or "green" strategies. Efforts and systems that reduce the environmental impact of something fall into this category. Recycling materials using low carbon-based fuel, having low water consumption and reducing pollution are all factors that can be utilized in developing "green" business strategies.
The combination of easy implementation and the beautification of the surrounding area make incorporating environmentally-friendly stormwater pollution prevention strategies an increasingly attractive option for many businesses.
Bioengineering and Low Impact Development (LID) Principles
One of the biggest issues contributing to stormwater pollution is a lack of permeable surfaces in industrial and urban areas. As less water is absorbed and filtered through soil naturally, the chance of pollutants reaching streams, rivers, lakes and oceans through rapidly moving surface waters increases.
Low impact development (LID) principles focus on preventing stormwater pollution from a flow control standpoint. LID practices emulate natural water cycles and native geology in industrial and urban environments. By introducing more permeable surfaces, restricting the flow of stormwater and using natural, eco-friendly means of filtering and containment, businesses can create a positive impact that is both CWA compliant and attractive.
Popular LID methods to prevent stormwater pollution include:
Permeable pavers: From parking lots to loading areas, the use of permeable pavers and asphalts is one of the biggest trends in green reduction of stormwater pollution. As technologies have matured, costs have dropped significantly making the option a viable upgrade for many businesses.
Rain gardens and bio-retention: Retention pools and reservoirs have been proven to reduce stormwater pollution. However, building bigger ponds to keep up with flow and duration standards is costly and limits usable land. Researchers have found that the addition of indigenous plants and other natural features to pools and runoff paths provides a natural means for controlling erosion, removing sediment and preventing pollution to surrounding surface waters — even in smaller ponds.
"Green" roof systems: Pollution can be managed at the source by incorporating bioengineering elements into facility structures, such a building's roof. This method enhances the buildings themselves and reduces cooling costs in warmer months.
Roof leader disconnection: This one design tweak involves redirecting rooftop stormwater to cisterns, reservoirs and surrounding green space to reduce the risk of contamination and slow the flow.
Thanks to Earth Day and other awareness campaigns, not to mention consumer demand, the number of businesses exploring "green" options to reduce stormwater pollution is growing fast. Incorporating these techniques into processes provides innovative ways for your business to meet EPA regulations and build the foundation for a clean future.
---