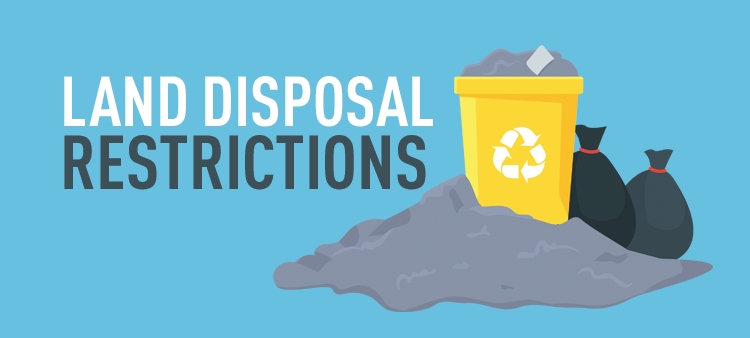 Editor's Note: Welcome to part 10 in our series about the Resource Conservation and Recovery Act (RCRA). During this series, we'll guide you through proper hazardous waste handling so you stay compliant and safe.
Media coverage of Love Canal and several rivers on fire heightened public awareness of the consequences of improperly disposed hazardous wastes. These events were also the stimulus for many Environmental Protection Agency (EPA) regulations, including the Resource Conservation Recovery Act (RCRA) and the Clean Water Act.
To help prevent further contamination to land resources, RCRA established Land Disposal Restrictions that prohibit generators from disposing of untreated hazardous wastes on land. (The Clean Water Act prohibits their disposal into water.) It is important for generators to be aware of applicable land disposal restrictions because they may need to treat the waste before disposal. This helps to ensure that if the waste eventually leaches from a land disposal unit, environmental impact will be minimized.
When a waste cannot be recycled, reclaimed or repurposed, generators often have several different types of disposal options available including incineration, fuels blending and land disposal. There are several different types of land disposal, including:
Landfills
Surface impounds
Injection wells
Land treatment facilities
Salt dome or salt bed formations
Underground mines or caves
Concrete vaults
Disposal bunkers
Each type of land disposal unit has specific design requirements that the owner of the disposal unit must meet before it can accept hazardous waste shipments. However, even with the safeguards that are put in place, systems can fail and hazardous wastes can still occasionally leach into the environment. The waste treatment standards specified in the land disposal restriction requirements help minimize this impact.
Applicability
Both small and large quantity generators of hazardous waste need to determine if their waste needs to be treated before land disposal [40 CFR 268.7]. If a hazardous waste meets any of the following three criteria, treatment is required before land disposal:
The waste is listed in the Treatment Standards for Hazardous Wastes Table [40 CFR 268.40]
The waste is a hazardous debris that is contaminated with a hazardous waste listed in 40 CFR 268.40 or exhibits a hazardous waste characteristic [40 CFR 268.45]
The waste is contaminated soil that exhibits a characteristic of hazardous waste [40 CFR 268.49]
Treatment standards vary, depending upon the hazard that the waste presents. For example, some wastes may need to be treated to reduce corrosivity, while others may need to have toxic components removed or reduced prior to disposal.
After a waste has been treated as required in the Treatment Standards for Hazardous Wastes Table, it may be land disposed if each of the following requirements is met:
All hazardous constituents in the waste have been removed or reduced to the levels shown in the Table
The hazardous constituents in the residue or extract from the wastes meet the levels shown in the Table
The waste was treated using the technology listed in the Table
Generators also need to be aware of specific types of hazardous wastes that are prohibited from land disposal [40 CFR 268.20 –.39]. Alternative recycling or non-land-disposal methods must be chosen for these wastes.
Exclusions
Not every hazardous waste is subject to land disposal restrictions. Many different types of hazardous wastes can be land disposed in approved hazardous waste disposal units without pre-treatment. Some examples include:
Wastes that are exempted from the definition of solid waste [40 CFR 261.4(a)]
Wastes that are exempted from the definition of hazardous wastes [40 CFR 261.4(b)]
Waste pesticides and containers that farmers dispose of on their own land [40 CFR 262.70]
De minimis laboratory wastes mixed with wastewater that are treated at a wastewater treatment facility
Waste generated by very small quantity generators (VSQGs)
Newly identified or newly listed hazardous wastes for which EPA has not yet promulgated treatment standards
Certain low-volume releases of characteristic wastes, known as de minimis losses
Treatment Standards
Wastes that are listed in the Treatment Standards for Hazardous Wastes Table [40 CFR 268.40] must be treated according to the applicable standards in the table. The treatment standards listed in the table make wastes less hazardous by:
Reducing the toxicity through destruction or removal of harmful contaminants
Reducing leachability by immobilizing hazardous contaminants
Hazardous wastes that are not listed but that exhibit a hazardous waste characteristic (toxicity, reactivity, corrosivity or ignitability) are handled differently. If the waste can be treated to remove the hazardous characteristic, the waste may be disposed of as a non-hazardous solid waste [40 CFR 268.9]. Characteristic hazardous wastes must be treated to remove both the characteristic, as well as any underlying hazardous constituents before they can be land disposed.
Prohibitions
All hazardous wastes that exceed the concentrations listed in the Treatment Standards for Hazardous Wastes Table [40 CFR 268.40] are subject to the following three prohibitions:
The disposal prohibition, which states that it must be treated according to applicable waste specific treatment standards before it is land disposed
The dilution prohibition, which requires proper treatment of wastes, not simply diluting it with water, soil or non-hazardous wastes to achieve permissible land disposal levels [40 CFR 268.3]
The storage prohibition, which prevents wastes from being stored indefinitely to avoid treatment. Wastes may only be stored long enough to accumulate a quantity necessary to facilitate proper recovery, treatment or disposal [40 CFR 268.50]
Alternative Treatment Standards
Because soil, debris and lab packs that contain hazardous wastes present a slightly lower health and environmental risk, the Environmental Protection Agency (EPA) established optional alternative treatment standards for these types of wastes. Generators have the choice of managing them according to all applicable standards in 40 CFR 268.40, or under the optional treatment standards, as follows:
Contaminated soils may be managed under the soil standards in 40 CFR 268.49
Hazardous debris (manufactured objects, plants, animal matter or geological materials bigger than the size of a tennis ball) may be managed under the debris standards at 40 CFR 268.45
Lab pack wastes may be managed under the standards in 40 CFR 268.42
According to the EPA, more than 23 million tons of hazardous waste are land disposed each year. The Land Disposal Restriction Standards establish treatment requirements to minimize the impact of these wastes to protect human health and the environment.
---