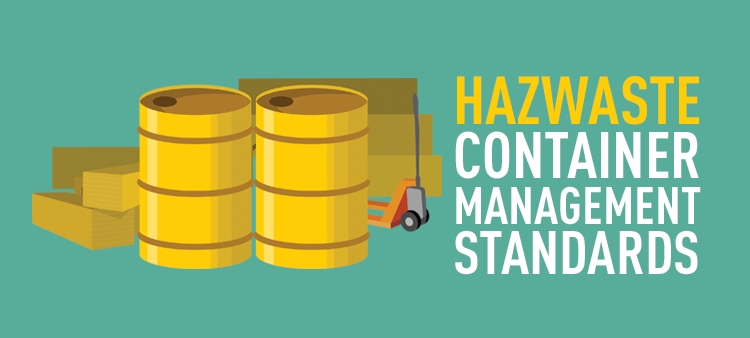 Editor's Note: Welcome to part 12 in our series about the Resource Conservation and Recovery Act (RCRA). During this series, we'll guide you through proper hazardous waste handling so you stay compliant and safe.
Improperly managed containers are one of the most common RCRA violations. The good news is that it isn't difficult, time-consuming or costly to get into compliance.
Small and large quantity generators have four options to accumulate and manage their onsite hazardous waste [40 CFR 260.10]. Wastes can be managed in:
Containers: Portable devices in which a material is stored, transported, treated, disposed of or otherwise handled
Tanks: Stationary devices designed to contain an accumulation of hazardous waste, which is constructed primarily of non-earthen materials (e.g., wood, concrete, steel, plastic) to provide structural support
Drip Pads: Engineered structures consisting of a curbed, free-draining base, constructed of non-earthen materials and designed to convey preservative kick-back or drippage from treated wood, precipitation and surface water run-on to an associated collection system at wood preserving plants
Containment Buildings: Hazardous waste management units that are used to store or treat hazardous waste under the provisions 40 CFR 264 or 265, subpart DD
This article will focus solely on the first of these four options: accumulating and managing hazardous waste in containers.
One of the most common types of containers used for onsite storage of hazardous waste is drums. Drums typically range in volume from 5- to 55 gallons and can either have a removable top or bung openings that allow materials to be put into or removed from the drum.
Both small and large quantity generators must follow these requirements for containers of hazardous waste. Container management requirements for small quantity generators are found at 40 CFR 262.16(b) and requirements for large quantity generators are at 40 CFR 262.17(a).
Good Condition
All containers storing hazardous waste must be in good condition. This means there shouldn't be excessive rust, deep dents, bent rims or anything else that is likely to cause the container to fail.
Containers also must not leak. If leaks are discovered, the contents of the container need to be either transferred to another container or managed in another compliant way. For example, the hazardous wastes could be transferred to a tank.
Compatible
Hazardous wastes can be flammable, corrosive, reactive or toxic. When a container is being chosen, the characteristics of the hazardous waste need to be considered so that a compatible container is used.
Examples are choosing a plastic container for corrosive materials or choosing a steel container that can be bonded and grounded for storing flammables. Some reactive wastes may need to be stored in glass or stainless steel containers.
It is important for individuals who choose containers, as well as those who add waste to collection containers, to understand the properties of the wastes being managed so that they can avoid reactions and container failures.
Closed
Unless hazardous waste is being added to or removed from a container, it must be kept closed. This includes the lid, bung caps and/or any other openings. This can be inconvenient for employees who need to add wastes to or remove wastes from containers several times a day, because it is not always fast, nor is it always convenient or easy to have to remove lids or bung caps each time.
Using sealable funnels on containers with bung openings and fast-latching lids on containers with open heads can help make containers more easily accessible. They can also make containers easier to open and close, which helps to encourage compliance.
Large quantity generators are also required to comply with applicable parts of 40 CFR 265, Subparts AA, BB and CC. These subparts contain air emission standards for wastes containing VOCs that require containers to be kept tightly sealed to prevent fugitive emissions.
Weekly Inspections
Containers of hazardous wastes in central accumulation areas need to be inspected weekly. This helps ensure that containers with signs of deterioration or corrosion are identified and properly handled.
Weekly inspections also help to ensure that containers are not otherwise damaged or leaking. Records should be kept to verify that inspections are taking place.
RELATED POST: Hazardous Waste Container Inspection Checklist
Labeling
Properly labeling containers helps keep workers safe because it provides an immediate notification that the material is hazardous as well as an indication of the hazard. It also helps to ensure that wastes are properly segregated and that incompatible wastes are not mistakenly mixed.
All containers of hazardous waste must be marked with the words "hazardous waste," as well as an indication of what is in the container. Some examples include:
Hazardous waste characteristics (corrosive, ignitable, reactive, toxic)
Hazard communication consistent with DOT requirements in 49 CFR 172, subparts E or F
Hazard statements that are consistent with OSHA's Hazard Communication Standard at 29 CFR 1910.1200
A hazard label consistent with NFPA Code 704
Containers in central accumulation areas must also be marked with an accumulation start date. This is the date that waste was first put into the container. All container labeling elements must be clearly visible so that they can be inspected.
Time Limits
Small quantity generators may accumulate and store hazardous wastes onsite without a permit for up to 180 days or up to 270 days if the wastes will need to be transported more than 200 miles.
Large quantity generators may only accumulate and store hazardous wastes onsite for 90 days.
To help both small and large quantity generators better manage their time limits, the EPA allows both types of generators to utilize satellite accumulation areas. These waste collection areas that are at or near the areas where a hazardous waste is generated allow facilities to collect small volumes of hazardous waste without incurring the time limits imposed upon wastes that are stored in central accumulation areas.
Before wastes can be transported off-site, they must be properly labeled in accordance with 49 CFR 172.304. They must also include the name of the waste generator and a statement that prohibits the improper disposal of the waste.
Managing hazardous wastes properly is important for keeping employees, the community and the environment safe. Implementing a program to ensure that hazardous waste containers are in good condition, properly labeled and correctly managed helps to ensure safety and reduce the chance of incidents.
Up next, learn where training requirements fit into your plan and how they relate to your facility's generator status.