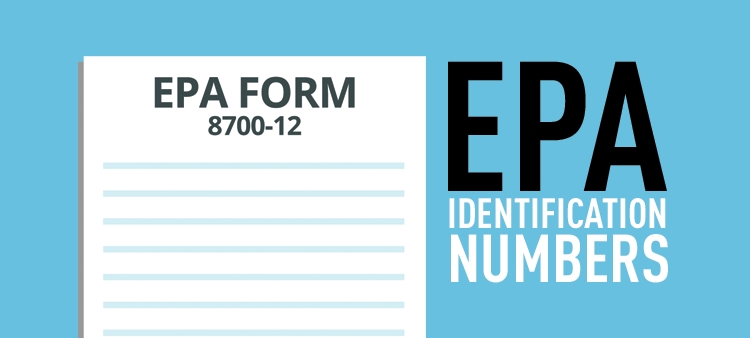 Editor's Note: Welcome to part 5 in our series about the Resource Conservation and Recovery Act (RCRA). During this series, we'll guide you through proper hazardous waste handling so you stay compliant and safe.
To keep track of all the small and large quantity generators, transporters and facilities that treat, store and dispose of hazardous wastes, the Environmental Protection Agency (EPA) uses an identification number that uniquely identifies each entity.
EPA identification numbers are required for:
Small and large quantity facilities that generate, transport, recycle, treat, store, dispose of or offer hazardous waste for transport [40 CFR 262.18(a)]
Facilities that manage hazardous secondary materials under 40 CFR 261.2(a)(2)(ii), 40 CFR 261.4(a)(23), (24) or (25)
Facilities that transport, process or re-refine used oil; burn off-specification used for energy recovery or market used oil [40 CFR 279]
Large Quantity Handlers of Universal Waste (LQHUW) who accumulate a total of 5,000 kilograms (kg) or more of universal wastes at any time [40 CFR 273]
Eligible academic entities [40 CFR 262.203]
Very small quantity generators are not required to obtain an EPA identification number at the federal level, but some states do require these generators to notify them of their activities and obtain an identification number.
Obtaining an EPA Identification Number
To obtain an EPA identification number, generators, transporters and facilities that treat or dispose of hazardous wastes must complete EPA Form 8700-12. This form provides the EPA (or their state agency if the state is RCRA-authorized) with basic information about the site, including its address and the types of wastes that the facility generates, stores, transports, treats or disposes. In states that operate their own RCRA program, these forms are submitted to state or regional offices instead of the federal EPA.
In addition to using it on biennial reports, EPA identification numbers are used on all paperwork that deals with hazardous waste including shipping manifests, spill notification reports and other communications.
Re-notification
Large quantity generators must re-notify the EPA of their activities as part of their biennial reports that are filed by March 1 of each even-numbered year [40 CFR 262.18(d)(2)].
Beginning in 2021, small quantity generators must re-notify EPA of their activities, and then re-submit information by September 1 every four years thereafter [40 CFR 262.18(d)(1)].
Re-notification is also required if:
Contact information for your site changes
Ownership changes
Any RCRA-related activities change
Hazardous secondary materials are being managed or will cease to be managed
A large quantity generator closes their facility
The use of EPA identification numbers and the requirement for large and small quantity generators to re-notify every two or four years, respectively, (or when there are changes) allow the EPA to maintain their compliance databases. It also allows regional offices to provide support and outreach programs to generators in certain geographic areas or those with similar waste generation activities.