Save Money by Choosing the Right Drain Cover
Facilities that transfer, store and use oils or hazardous materials need to have plans in place to prevent spills from leaving their facilities. For many sites, these plans often include the use of drain covers – especially during bulk deliveries and bulk fluid transfers.
Because most environmental regulations are performance-based, covers can be used proactively (put in place every time fluids are transferred, or for maintenance applications) or reactively (pulled out only if there is a spill). Knowing how a drain cover will be used is the first step in getting the right one for your needs.
Drain covers come in a lot of different varieties and a lot of different price ranges. But that doesn't mean that it's impossible to choose the right one.
If drain covers are deployed proactively before every fluid transfer, or if they will be left in place for a long time, spending the extra money on a heavy-duty drain cover that has UV protection, that is tear-resistant and that has drive-over capabilities makes sense because the cover will be used regularly and needs to be able to withstand constant use and abuse. New Pig's heavy-duty Elvaloy (for repeated use) and Drive-Over (for extended use in high-traffic areas) DrainBlockers are perfect for these applications because they are engineered specifically for repeated and extended use.
But what about facilities that choose to have drain covers solely for spill response? The cost of buying heavy-duty drain covers to have on hand just in case is probably overkill – especially when the cover may spend its entire life sitting on a shelf. When drain covers will only be used for emergency response, a low-cost drain cover is usually the best bet. The Rapid Response DrainBlocker fits the bill in these situations and allows facilities to purchase multiple drain covers to store throughout the facility without breaking the budget. Think of them like fire extinguishers – you can keep them in areas where you may need one in case of an emergency.
Here's how our three blockers compare: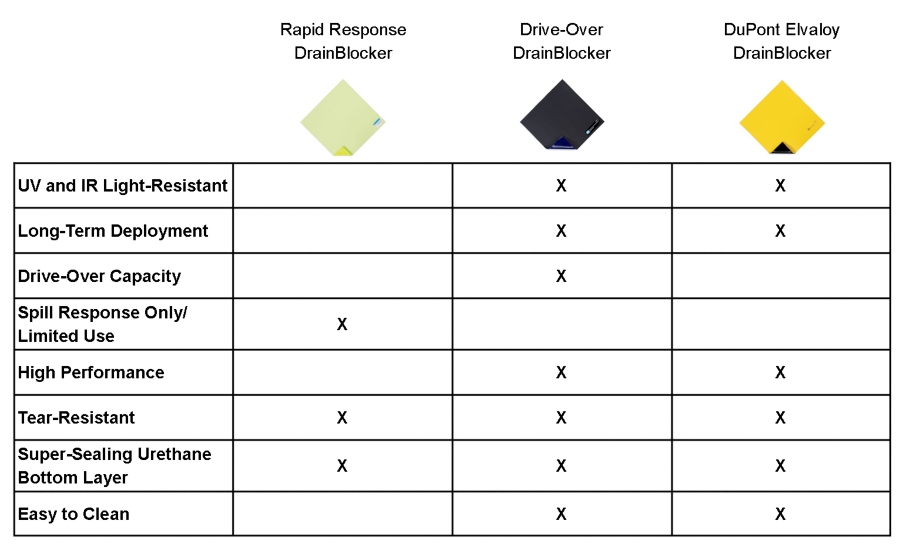 Whether drain covers are used daily or if they're only kept on reserve for spill response, it pays to be prepared. Choosing the right type of drain cover, and storing them in convenient, easy-to-access locations helps the facility to be prepared, saves money and makes the job easier for everyone.
See the three types of PIG Drain Covers — Drive-Over, Rapid Response and everyday use — to keep your facility's drains and the environment protected from releases.