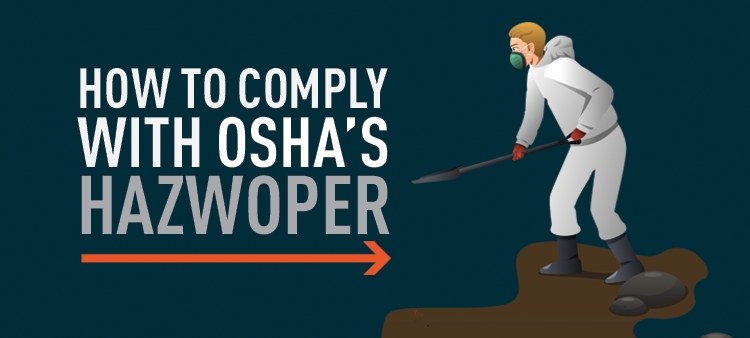 This spill response series will address risk assessment, proper protection of responders, spill planning and training requirements, spill response techniques, decontamination of workers and equipment, and reporting requirements.
Planning and training are essential elements in effective spill response. You shouldn't consider one aspect without the other though, especially when it comes to potential hazardous waste spills.
Planning Ahead for Safety
Under the Hazardous Waste Operations and Emergency Response (HAZWOPER) standard, the Occupational Safety and Health Administration (OSHA) requires facilities that produce and store hazardous waste to have a written plan that documents emergency spill response operations [29 CFR 1910.120(b)].
When writing an emergency response plan, identify spill-prone areas in your facility and customize a plan of action for each based on the volume or nature of the chemicals stored the response to a 1 oz. laboratory spill will be much different than the response to a break in the main feed line of flammable material.
Documenting possible scenarios and detailing the steps for effective response is crucial to thorough planning. Locate available resources and purchase needed items for each of these scenarios.
Plans should also detail employee responsibilities. Outline duties by job title rather than employee names to help managers facilitate training based on an employee's job description and reduce the number of times the plan needs to be altered due to personnel changes.
Levels of Training
With plans in place, coordinators can then determine the levels of training needed. Keep in mind that it may not be practical or necessary to train everyone at the facility, but rather only those who will have a role in responding.
Before outlining employee responsibilities and administering training, it's worth considering if the spill response should be outsourced. The HAZWOPER standard does allow the option for employees to evacuate the facility in the event of a spill if the company pre-arranges to have a fully-trained outside emergency team respond to the spill.
If your company will work with outside resources to respond to spills, it must be well-documented in your spill response plan and include contact information. The plan should also include a letter or other documentation from the outside resource(s) stating their commitment and detailing their services.
When employees will handle emergency releases, OSHA requires the following levels of training, depending on the extent to which workers will be involved in response:
Thorough spill response plans help everyone know what is expected in an emergency, and training helps ensure that plans will run smoothly when and if they are ever needed.
Do your employees know how to clean up and decontaminate after a spill?
---