Spill Risk Algorithm - Get Your Report
Once we receive your data and apply our algorithm, we'll get to work on your Spill Risk Report. It's a full, formal report that offers best practices and guidance for the liquids in your facility, presented in three sections: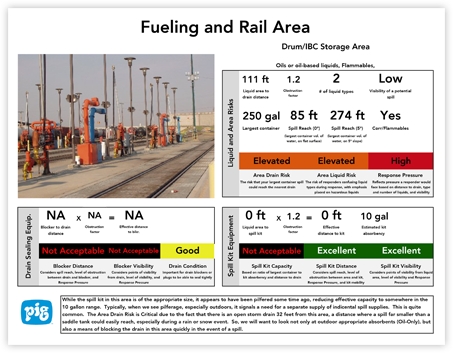 Area Risk Ratings
Your spill risks are broken down, one page per area, into a simple, visual format that's easy to understand. Based on the data you provided, risk ratings deliver a detailed analysis of your current reality in three categories, :
Liquid and Area Risks — looks at distance to drain, type and number of liquids and visibility of potential spill areas
Drain Sealing Equipment — examines the effectiveness of your blockers based on distance, visibility and drain condition
Spill Kit Equipment — rates your spill kits as determined by capacity, distance to potential spill area and visibility to determine your readiness
---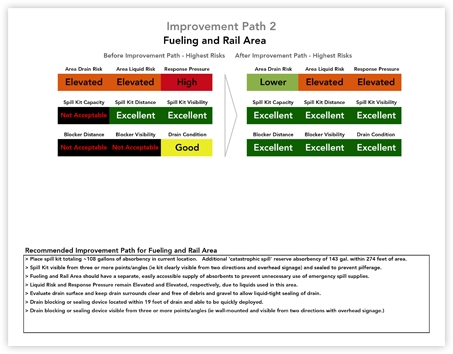 Improvement Paths
The Spill Risk Report gives you specific recommendations to improve the risks in each area of your facility. These clear, step-by-step instructions can help you comply with EPA and OSHA regulations that are often vaguely written and difficult to interpret.
You also get a before-and-after snapshot of how your risk ratings will improve. Although regs may vary by city, state and country, spill physics are universal, so our recommendations apply everywhere and the report is available in six languages.
---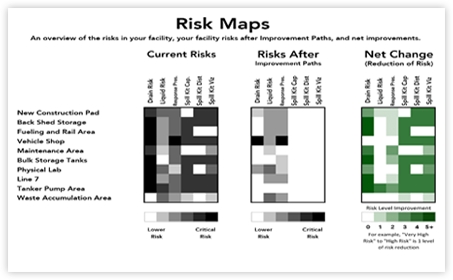 Risk Maps and Summaries
In addition to the detailed analysis of individual areas, the Spill Risk Report also includes a facility-level summary. You'll see facility-wide averages, tables of risk before and after improvement path, and a visual overview that we call your Risk Map.
This map displays your current risks, risks after improvement, and the resulting net change. Our trusted, actionable guidance makes it easier to discuss your facility's risks and solutions with supervisors, peers and members of your team.
---

PROOF POSITIVE
"This report is AWESOME! I never would have expected something this detailed and helpful! "
- EHS Director at 1000+ employee site
---