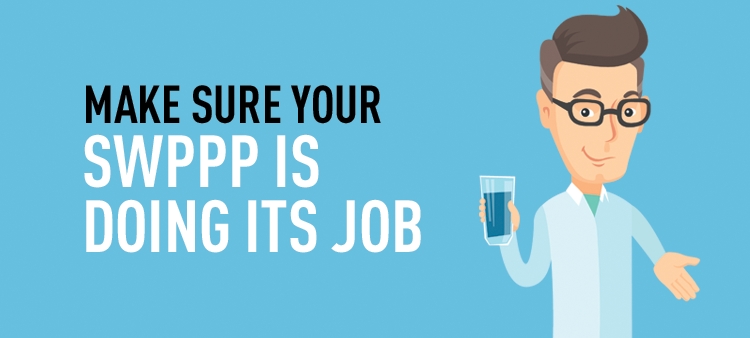 Editor's note: Welcome to our series on Stormwater Management! We hope you find these PIG-exclusive articles to be helpful in explaining the basics of stormwater regulations and what you can do to help protect your storm drains.
When an NPDES permit is issued, it specifies the effluent limitations for pollutants. It also establishes intervals for stormwater monitoring and water sampling. The control measures and practices that will be used to ensure compliance must be documented in the facility's SWPPP.
Quantitative sampling and monitoring validate whether the control measures that have been established in plans are effective enough to remove pollutants.
Stormwater Sampling
Stormwater sampling procedures can produce samples that may be analyzed for pH, oil, grease, Chemical Oxygen Demand (COD), Total Suspended Solids (TSS), metals or other specific pollutants. Facilities should determine the following:
Where stormwater is discharged and whether it goes to a sanitary sewer, municipal separate storm sewer system (MS4), combined sewer system or directly to a waterway
Where samples will be collected (typically at one a point before the stormwater leaves the facility as well as some point downstream)
What type of monitoring is required
The types of storm events that require monitoring
The name of the laboratory or laboratories that will analyze samples
Types of stormwater samplers, sampling kits and other sampling equipment needed
"First Flush" Samples
One of the required samples to be taken is a "first flush" sample. This sample must be collected after the weather has been dry for 72 hours and within the first hour of a storm when the rainfall is greater than 0.1 inch. All samples need to be properly collected, analyzed and recorded.
Stormwater Monitoring
Stormwater monitoring is used to create a benchmark and to monitor ongoing pollution prevention efforts. Monitoring may be continuous, done on a quarterly basis or at other intervals specified by the state or regional administration issuing the permit. For some parameters, monitoring may simply require documenting a visual assessment. In addition to quantifying the actual levels of pollutants, the results of monitoring efforts help to identify changes over time.
If monitoring uncovers high pollutant levels or abnormal findings, it may be necessary to investigate further. By testing individual storm drains and comparing results by location, the problem can be isolated and addressed.
Training Your Team
Pollution prevention team members must be trained how to anticipate measurable stormwater events, how and where to sample, how to perform and document visual assessments and how to prepare samples for laboratory analysis. Someone must also be trained to interpret lab results and accurately record them as well as how to report findings to the appropriate agencies.
---