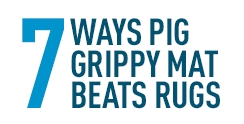 Here's how we fixed everything you hate about rental mats
---

NO RIPPLING

WON'T SHIFT

CONTINUOUS COVERAGE

ABSORBENT & FAST-DRYING

BUILT FOR EXTREME TRAFFIC

EASY TO CLEAN

SAVES TIME & MONEY
---
Want more information on PIG Grippy Floor Mat?
Click here to visit our PIG Grippy Mat Information Center to find out how you can end your rental mat hassles.
View All Grippy® Adhesive-Backed Mats

Whether you need an entrance floor mat or a restroom mat, mats for under your machines or mats with safety borders for walkways, we have just what you need. Our adhesive-backed mats come in a wide variety of styles, materials and more. From our carpet mats and stylish designer series mats to our tough, ultra-duty Grippy Floor mats and industrial absorbent mats, browse all of our options below to find just the right mat for anywhere in your facility!
Accessories for View All Grippy® Adhesive-Backed Mats