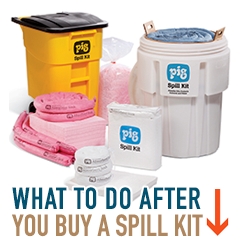 First, put your kit where you're likely to have a spill and make sure you can see and get to it easily.
Next, open your kit and take a look at what's inside. We pack the socks, booms, mats, pillows and other supplies in the order you need them so you can respond quickly.
Finally, create a plan that outlines who will respond to the spill and what procedure they will follow.
The steps below will get you started:
1. Confine the spill: create a barrier around the outside of the spill with the socks or booms.
2. Stop the flow: find where the liquid is coming from and shut down the source.
3. Clean up the mess: working from the outside to the inside of the spill, use the absorbents in the kit to clean up.
4. Dispose of used absorbents: secure the saturated absorbents in the yellow temporary disposal bags provided in your spill kit and dispose of them in accordance with all local, state and federal regulations.
---
For in-depth instructions, checkout: PIG Spill Response Tactics Training
View All Spill Kits