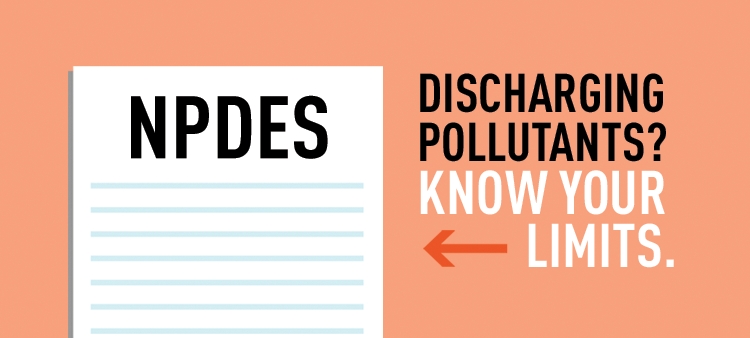 Editor's note: Welcome to our series on Stormwater Management! We hope you find these PIG-exclusive articles to be helpful in explaining the basics of stormwater regulations and what you can do to help protect your storm drains.
A stormwater permit defines a facility's limits on what types and volumes of pollutants can be discharged into waters of the United States. It also includes requirements for monitoring and reporting to help ensure that any discharge does not harm water quality or human health. These provisions are tailored to the specific operations of each person discharging pollutants.
Keep reading for an overview of stormwater permits — why they're important, what they contain and what you need to know to get one. You can use these links to jump to a specific section:
Table of Contents:
Why Are Stormwater Permits Required?
Do I Need a Stormwater Permit?
Types of Stormwater Permits: General vs. Individual
What Does a Stormwater Permit Contain?
How Do I Get a Stormwater Permit?
How Much Does an NPDES Permit Cost
How Long is an NPDES Permit Valid?
After You've Been Granted a Stormwater Permit
Why Are Stormwater Permits Required?
The Clean Water Act gives the Environmental Protection Agency (EPA) the authority to create and enforce water pollution prevention programs. The National Pollutant Discharge Elimination System (NPDES) is one of the programs that the EPA established to control and prevent pollution from manufacturing, construction and other point sources.
Under this program, stormwater permits (specifically NPDES permits) are issued to point source generators who directly discharge pollutants into any water of the United States. These industrial and municipal sources are responsible for protecting their storm drains and abiding by their permissible limits. While it may seem counterintuitive that the EPA allows facilities to discharge pollution, permits have strict limits on the types and volumes of pollutants they can discharge. Because of the tight limits specified in NPDES permits, many impaired waterbodies now have improved water quality as the result of this program.
Shortly after the program began, the EPA required each state's environmental department to evaluate their lakes, rivers, streams and other waterbodies to determine the levels of impairment and the desired uses for each water. States also looked for sources of pollution and developed the pollutant limitations that would be necessary to prevent further damage and improve water quality so that each body of water could be used for its desired purpose.
The NPDES permitting program is administered by state agencies in all but nine states and territories. In those states and territories, the program is administered by EPA regional offices. Because each state has different types of waters and different desired uses for each of the water bodies in their jurisdiction, the limits on the types and volumes of pollutants that may be discharged vary. Permits also vary within a state depending on how many different point sources are discharging pollutants into a single water body.
Do I Need a Stormwater Permit?
Several types of facilities are subject to NPDES permit requirements. Every facility that discharges pollutants from a point source into waters of the United States is required to develop and implement a Stormwater Pollution Prevention Plan (SWPPP), submit a Notice of Intent (NOI) and obtain an NPDES permit. Some examples of facilities and industrial activities that are subject to NPDES standards include:
Manufacturing facilities
Coal and mineral mining
Oil and gas exploration and processing
Hazardous waste treatment storage and disposal facilities (TSDFs)
Landfills and industrial waste dumps
Metal scrap yards, salvage yards, auto junkyards and battery reclaimers
Steam electric power generating plants
Transportation facilities that maintain vehicles or clean equipment
Airport deicing operations
Domestic sewage treatment works processing more than 1 million gallons a day
Construction activities disturbing more than one acre of land
Not every facility requires an NPDES permit, even if they are listed above. For example, facilities that discharge their wastewater to municipal sanitary sewer systems (systems designed to transport wastewater from homes and industry) or combined sewer systems (those that transport domestic wastes, industrial wastewater and stormwater) do not require NPDES permits. These discharges are allowed by NPDES because they will be treated and/or removed by a municipal treatment plant without going directly into a water of the United States. These facilities may, however, require a different type of discharge permit.
No Exposure Exemptions
Some facilities also qualify for No Exposure Exemptions if they have no point source discharges and no industrial materials or activities that are exposed to rain, snow, snowmelt and runoff. Examples of materials and activities that need to be sheltered or kept indoors include:
Material handling equipment and industrial machinery
Raw materials
Intermediate products, by-products, waste products and finished products
Rock salt and other loose piled items that could be conveyed by stormwater
Although permits vary, they all specify the limits for each type of pollutant that is discharged. Facilities may choose the methods and treatment technologies they want to use to achieve the specified limits, which are reflected in their SWPPPs as Best Management Practices (BMPs).
Types of Stormwater Permits: General vs. Individual
The NPDES program issues two types of stormwater permits — general and individual — depending on the facility and the pollutants that are discharged.
General Permits: Permits that apply to multiple facilities within a specific industrial category or geographic area. Most states simplify the permit process by offering Multi-Sector General Permits (MSGPs).
Individual Permits: A permit that is specifically designed for an individual facility. Individual permits are generally more stringent than general permits.
To learn more about the differences between permit types, read our article, "Stormwater General Permits vs. Individual Permits."
What Does a Stormwater Permit Contain?
Stormwater permits outline discharge limits in the form of Total Maximum Daily Loads (TMDLs) and contain monitoring and reporting requirements. Although permits differ from site to site, all must contain the following five elements:
1. Cover Page
Lists the name and address of the facility
Provides a statement authorizing the discharge
Names the specific location of the discharge
2. Effluent Limits
Methods and technologies to prevent pollution
Ways to control discharges into waterways
3. Monitoring and Reporting Requirements
Characterizes hazardous waste streams and receiving waters
Evaluates wastewater treatment efficiency
Determines compliance with permit conditions — typically, facilities police themselves and report noncompliance
4. Special Conditions
Conditions developed to supplement effluent-limit guidelines
best management practices (BMPs)
monitoring activities
stream surveys
5. Standard Conditions
Preestablished conditions that apply to all NPDES permit holders
Defines legal, administrative and procedural requirements of the permit
Among these common elements you can expect site-specific variances in areas such as water quality criteria, sampling frequencies, reporting obligations, use of technologies, variances from Best Available Technologies (BAT) for non-conventional pollutants, historic preservation and protection of endangered species or other special needs.
How Do I Get a Stormwater Permit?
In order for your facility to be covered under either a general or an individual NPDES permit, you're going to need a Stormwater Pollution Prevention Plan (SWPPP).
A SWPPP is a written document that identifies activities at a facility that could cause stormwater pollution and lists the practices and procedures that the facility will take to prevent pollution from occurring. This document includes Best Management Practices (BMPs), which the EPA defines as "a schedule of activities, prohibitions of practices, maintenance procedures, and other management practices to prevent or reduce the pollution of waters of the United States" [40 CFR 122.2].
Once your SWPPP is prepared, you can apply for your stormwater permit. Most states, as well as the federal government, have electronic databases that allow applicants to apply online. Many allow you to pay fees online as well, and typical turnaround time can be anywhere from 48 hours to 14 days.
How Much Does an NPDES Permit Cost?
Many states and local municipalities charge fees for permits and renewals. These fees are often used to cover administrative costs as well as stormwater improvement projects that benefit local communities.
NPDES fees vary greatly from state to state, but most are incurred in two stages: first, when Notice of Intent (NOI) is submitted, and second, as an annual fee. For example, an industrial site in Pennsylvania could pay $500 with their NOI plus a $500 annual fee. But for a comparable applicant in California, typical costs are $1,400 for NOI plus annual fees ranging from $500 to $15,000 based on the complexity of their discharge.
These numbers usually increase for construction applicants, as fees are often determined by the number of acres of disturbed land. Most states assign a ceiling to their per acre fees, but it's not uncommon for large operations to pay five figures to acquire their NPDES permit.
How Long is an NPDES Permit Valid?
NPDES permits are valid for up to five years. Facilities must submit renewal applications at least 180 days before their permit expires to allow the issuing agency time to review and renew the permit. In some cases, the state agency may take longer than 180 days to renew a permit. When this happens, the facility may continue to operate under the conditions of the previous permit until their new permit is issued.
After You've Been Granted a Stormwater Permit
Once you've secured your permit, you must adhere to the terms stated within it and follow the conditions that you outlined in your SWPPP.
1. Inspections must occur as stated in your SWPPP and permit:
BMPs such as storm drain covers and filters
Waste management areas
Secondary containment systems
Outflows
Storage areas
Spill prevention equipment, including resources such as drain covers and spill kits
2. Sampling must occur as stated in your SWPPP and permit:
Grab samples must be taken during rain events
Benchmark samples must be taken as part of the NOI
Compliance samples must be taken as outlined in your SWPPP and permit:
Outflows must be sampled/monitored at least quarterly
Effluent limitations must be sampled at least annually
3. Monitoring must occur as stated in your SWPPP and permit:
May be continuous or combined with routine sampling
4. Non-compliance reports must be filed:
When there is any non-permitted release (spill)
When the results of any sampling/monitoring indicate a variance from the terms of the permit
5. Annual reports, when required, must be filed with the appropriate state agency by the deadline they established in the permit (typically in the spring)