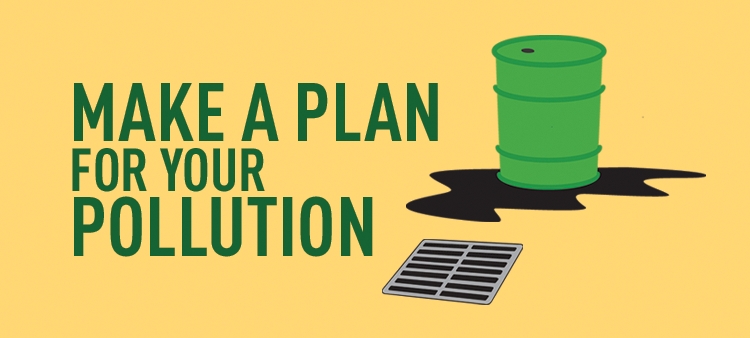 Editor's note: Welcome to our series on Stormwater Management! We hope you find these PIG-exclusive articles to be helpful in explaining the basics of stormwater regulations and what you can do to help protect your storm drains.
A Stormwater Pollution Prevention Plan (SWPPP) is a site-specific, written document signed by a company executive that (1) identifies all of the activities and conditions at their site that could cause water pollution, and (2) details the steps the facility will take to prevent the discharge of any unpermitted pollution.
Why Do I Need a SWPPP and What Is Its Purpose?
A SWPPP is a required step for facilities seeking to obtain a National Pollutant Discharge Elimination System (NPDES) Permit. And every facility that discharges pollutants directly into a Water of the United States (WOTUS) must obtain an NPDES Permit. In order to get a permit, the facility must submit a Notice of Intent (NOI) describing the types of pollutants they will discharge, as well as the names of the receiving waters. Once notice is given, facilities must then submit a SWPPP.
The purpose of a SWPPP is to help the Environmental Protection Agency (EPA) preserve and improve water quality by regulating facilities that discharge water containing small amounts of pollutants. SWPPPs and NPDES permits are not required for discharged pollutants that enter a municipal sanitary sewer system, but facilities should check with their municipality or local water authority before discharging pollutants to a sanitary sewer system.
Keep in mind that most municipalities have volume limits and pretreatment requirements. Some may prohibit certain types of pollutants, and some require special permits or plans that are like stormwater plans and permits.
What Should a SWPPP Include?
As the name suggests, the focus of a SWPPP is on the proactive measures the facility will take to prevent water pollution. But, because even the best of plans sometimes fail, the plan must also include procedures and lists of equipment that will be used in the event of a release. All SWPPPs must include: 1. A site description 2. Names and duties of the pollution prevention team 3. Descriptions of activities that could cause pollution 4. Control measures for preventing spills and minimizing hazards 5. Spill response plans 6. Procedures for conducting inspections and monitoring 7. Provisions for employee training Keep reading for a deep dive into each required SWPPP section.
1. Site Descriptions
In addition to the name and address of the facility, the site description should include general descriptions of the activities performed there. A site map is also required.
Site maps can be developed from US Geological Services (USGS) quadrangle maps that show the geographic location and size of the facility. They need to include:
The locations of all receiving waters
The direction that stormwater flows from the facility
Locations of all ditches, pipes, swales, drains, inlets, outfalls or other stormwater conveyances
Locations of secondary containment structures
Locations and quantities of potential stormwater pollutants
Areas were spills have occurred in the past
Stormwater monitoring points
Locations of fueling stations, offloading areas, outdoor maintenance and equipment storage, tanks and transfer areas
Sources of run-on from adjacent properties that could cause pollution
This information should provide outside responders, such as fire departments and hazmat teams, with a general idea of the types of materials and pollution prevention devices kept onsite so they can prepare to assist the facility in an emergency.
2. Pollution Prevention Team
The Pollution Prevention Team assists the facility manager with the development and revision of the SWPPP. Often, these team members are responsible for ensuring that the best management practices and procedures listed in the plan are being followed. They can also be involved in taking any necessary corrective actions.
Members of the Pollution Prevention Team should be identified by name or position. Each should also have access to the SWPPP, and if appropriate, the NPDES permit.
3. Activities That May Cause Pollution
Plans must identify all outdoor activities where leaks and spills could occur, as well as areas where materials that are exposed to rain and snowmelt are stored. All significant spills that have occurred in the past three years must also be documented.
Uncovered outdoor storage of loose materials is one of the leading causes of sediment pollution in stormwater. Stormwater can be exposed to pollutants when it hits impervious surfaces, carrying sand, salt or other loose materials into storm drains.
Vehicles, machinery and equipment contain oil and sometimes fuel that can leak. As rain and snowmelt travel over paved surfaces where these items are stored, oil leaks or spills that have occurred, but have not been cleaned up are carried with it. Vehicle and equipment maintenance and cleaning that occurs outdoors without containment can also contribute to stormwater pollution.
In addition to the storage of materials and equipment outdoors, other outdoor activities can cause stormwater pollution. For example, leaks and spills of oil and fuel products are common when fuel is being transferred into the storage tank, as well as when it is being dispensed into equipment, vehicles and containers.
4. Control Measures, Schedules and Procedures
For each process or area that generates a pollutant, at least one control measure must be in place and implemented. SWPPPs must document the type of control measure(s) in place and describe how it will prevent excess pollutants from being discharged.
Effluent limits dictate the amount of any given type of pollutant that may be discharged. Limits can be technology-based or water quality-based. Although the limits are designated in an NPDES permit, the methods, technologies or procedures that will be used to meet the limits are not prescribed.
Depending upon the type of pollutant that must be controlled or removed, technologies may be advanced and involve filtration and pretreatment. Other control measures are more basic, such as implementing good housekeeping practices.
Conducting routine inspections of tanks and containers, promptly cleaning up small leaks and spills, scheduling regular waste removal and keeping materials under roof or covered are all examples of low-cost good housekeeping measures.
5. Spill Response Plans
In an ideal world, the control measures and procedures listed in plans would prevent pollution in every circumstance; because even the best plans can fail, SWPPPs need to include spill response plans. Facilities that have comprehensive spill response plans to meet other regulatory requirements and address other situations that could pollute stormwater don't need to create another version of the plan. Copies of the existing response plans may be kept with the SWPPP as proof of the facility's readiness to respond.
6. Inspections and Monitoring
Permits establish the frequency, parameters and sometimes the procedures for monitoring stormwater outflows to ensure that the pollutants being discharged do not exceed the effluent limitations. Depending on the pollutant and the effluent limitations that have been established, monitoring may need to be conducted continuously, or it may only need to be checked once or twice a year. Most states require facilities to track the results of their monitoring and submit reports to verify compliance. All states have requirements to self-disclose any non-compliances.
In addition to periodic monitoring, facilities must also perform routine inspections to ensure their control measures are still effective and procedures are still being followed. If a facility is audited, copies of inspection forms will help to prove that this check and balance system is in place.
7. Employee Training
Employers must document that an employee training program is in place to instruct employees about their stormwater pollution prevention plan, best practices and procedures for preventing stormwater pollution. This training may be incorporated into other trainings including RCRA, SPCC or spill response. Facilities must document that employees have been trained and taught about their roles in preventing stormwater pollution.
Reviewing and Updating a SWPPP
When operations or other changes are made that affect the SWPPP, it must be modified. Some examples of changes that can trigger the need to revise a SWPPP include:
The introduction of new chemicals or processes
The removal of processes, tanks or chemicals
Moving an operation or storage indoors or outdoors
Changes in personnel who have an active role in the Plan
Even if nothing changes, SWPPPs should be reviewed each time the NPDES permit comes up for renewal. Plans must be signed and dated by a corporate officer, and the current copy must be kept onsite for review.
Like other plans, the procedures and control methods that are outlined in a SWPPP should be accurate and easily understood by all employees. Often, the practices are incorporated into Standard Operating Procedures that, when followed, positively affect both production and environmental safety.
---