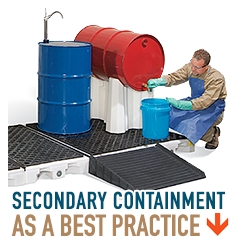 On January 9, 2014, a tank rupture spilled 10,000 gallons of crude MCHM into the Elk River — just upstream from West Virginia American Water's regional intake — triggering a state of emergency and leaving 300,000 Charleston, WV residents without water.
---
Even though the chemical company responsible for the spill had violated West Virginia environmental laws, federal regulations only require secondary containment for hazardous waste, hazardous materials and oil — but not chemicals like MCHM.
---
So why use containment if there's no regulation? The answer is simple: secondary containment is also a Best Management Practice (BMP) that keeps our environment and communities safe.
---
Secondary containment is anything that will contain or hold back liquid in the event of a leak or spill. Containment can be used for something as small as a pail or as large as a tank. And it doesn't have to be permanent — like a concrete berm — it can also be semi-permanent like a Build-A-Berm Barrier or portable like a spill containment pallet or Collapse-A-Tainer.
---
See more at Secondary Containment — Precautionary Measures Pay Off.